Review: Hi-Tec Natal Mid (Waterproof)
I received another pair of boots from Fitness Footwear this week and interestingly I was sent a pair of boots I would never normally choose. Hi-Tec have something of a reputation for producing cheap and cheerful walking boots and after having used a pair of their boots about three years ago I vowed I would never buy another pair again. I don't remember the exact model I had previously, but I bought them on the basis of their lightweight advertising – they were tied to a tent pole and floating like a pair of balloons – so light they had to be tethered. Well they were quite light – but they were also totally not waterproof – letting in copious amounts of water on almost my first outing and at the time I remember thinking they were certainly not worth the mere £50 I spent on them.
So you can imagine I was a bit sceptical about trying another pair of Hi-Tec. However, I didn't pay for them and I quite enjoy doing these gear reviews, so I happily agreed when Fitness Footwear sent them to me. Three years on and Hi-Tec are still producing very inexpensive boots – these Hi-Tec Natal Mid WP were on the Fitness Footwear website for £36 with free delivery – now that's an incredible price for a pair of waterproof boots. It also gives some perspective to this review – anything I may say here has to placed into the context of the price tag. These are £36 boots!!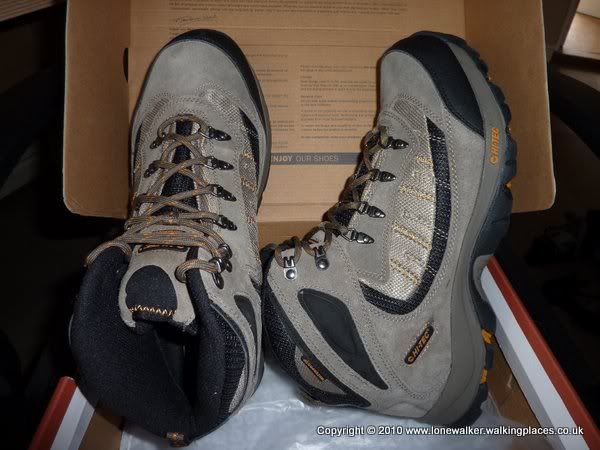 They don't look cheap either – they actually look the business – they have good quality laces (unlike the recent Inov-8 Roclite 390GTX boots I've been testing recently and they feel chunky and robust – again unlike the Roclites. On my scales they weighed in at an average of 700g each for a size 11. Not lightweight by any means, but then they are not advertised as such.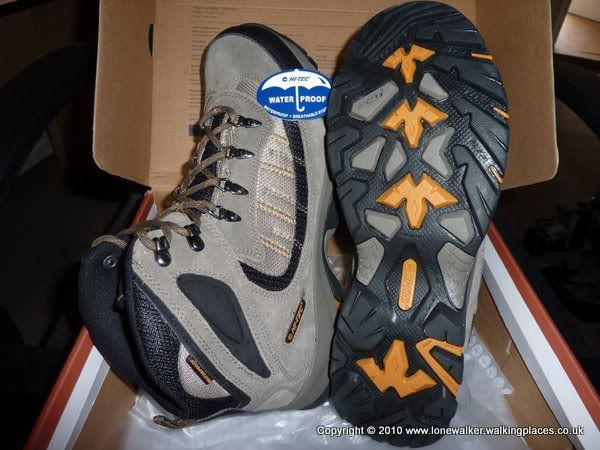 I wore them round the house all day Friday and they felt fine, a little clunky maybe – but then I've been wearing Inov-8 Roclites for the past few weeks, so even my slippers feel clunky compared to them. I was planning to walk 12 miles of the Ridgeway with a friend on the Saturday, so I wanted to check they felt comfortable before I risked them on my feet in anger. They passed the indoor test no problem at all.
Saturday morning saw me booting-up in a layby, along with Alex – he also had new boots on. He's climbing Kilimanjaro in January, in aid of the ABF Soldiers' Charity and he'd just bought some new Asolo boots, along with a pair of Superfeet in-soles (the latter on my recommendation). So we set out looking like a pair of newbies along the Ridgeway.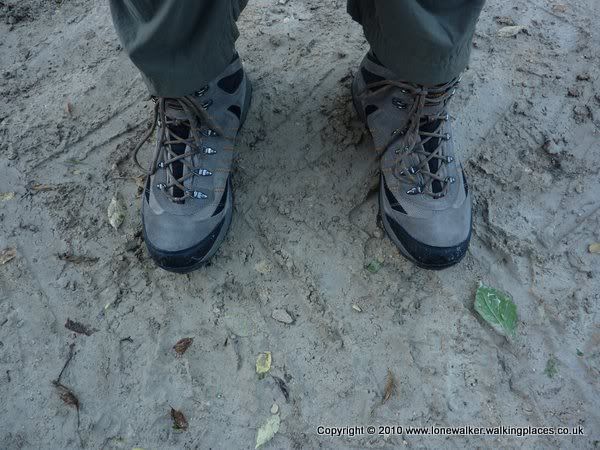 The first three or four miles were a nervous affair, with both of us looking for faults in our boots. Alex obviously had more at stake than I did – Ellis Brigham were not going to refund his money if his boots didn't fit properly, at least I had nothing to lose.
Those first four miles or so the Hi-Tecs felt just fine, nice and comfy, solid and fairly grippy, except on the slick wet chalky rock of one section of path, where I was losing some traction, but not a major problem. Then the problem started. After about 4 or 5 miles I started to feel like I had a stone in my left boot, on the inside of the heel. I stopped and check my two pairs of socks for stones and knocked out the boot. Nothing there. I replaced the boot and walked on. A mile further on and I could still feel it and now it felt worse and the same problem was developing on the inside of my right heel too! Surely not a coincidence.
I stopped and took both boots off and checked inside for stones. I didn't find any, but I was starting to develop a hotspot on the inside of both heels. I checked the boots more closely and quickly found the source of the problem. The insoles of the boots don't quite fit. They are both a little too large in the heel cup and as a result there is a tiny fold in the insole, just where the inside of my heel would sit. I've used a red circle in the picture below to identify the crease.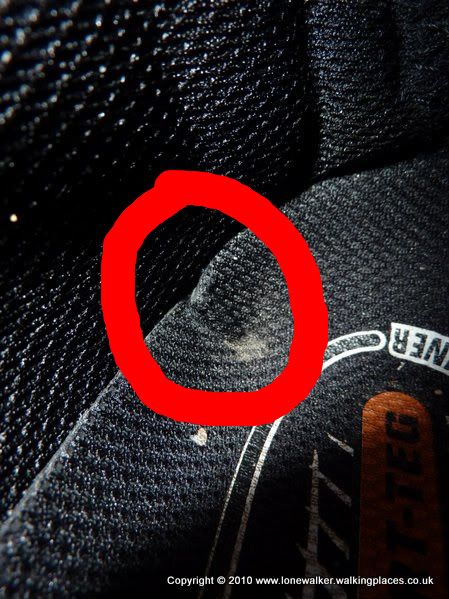 If I remove the insole, you can see it much more clearly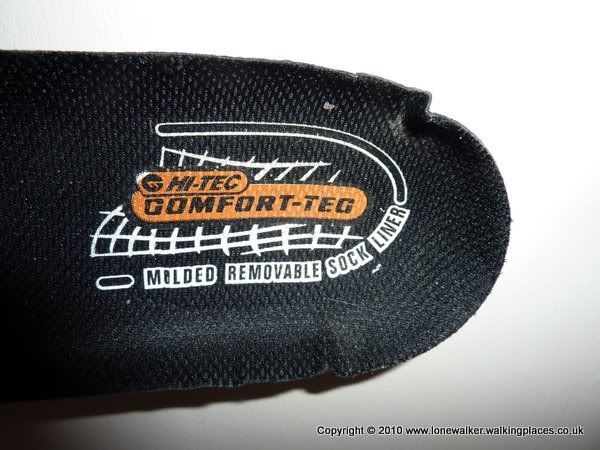 I was only 5 miles into the walk, with no alternative but to continue and the for the remaining 6 or 7 miles the problem got steadily worse. By the end of the walk I'd developed two large and very painful blisters – on the inside of each heel. I've never suffered from blisters before. Of course I've had a couple in the past, but they have been on long distance paths – never after 11 miles.
Like I said earlier, the contents of this report need to be viewed in the context of the price of these boots. They are £36 boots. They appear to be inexpensive boots let down by cheap insoles. Of course a single 11 mile review cannot really be seen as definitive, but I couldn't use these again – not without adding proper insoles like Superfeet. But they would add £35 to the price of the boots. That in itself puts the problem into perspective.
What I will say is that the boots were fine for the first 4 or 5 miles – so if all you want is a pair of inexpensive, waterproof boots for walking the dog then these could well be perfect. If you have a pair of Superfeet already, then again these could be just the job. I do have a pair of Superfeet and I will test these again in a couple of weeks with my own insoles and see if things improve. I will carry another pair of boots with me of course, just in case.
You will be pleased to know that Alex loved his boots, they were comfortable and secure, felt sturdy and reliable, gripped well but made his feet sweat a little bit. Everything you'd expect from a pair of £140 Gore-Tex lined walking boots.