Walk Report: Great Gable Day 1
| | |
| --- | --- |
| Date: | 30th Aug 2008 |
| Stats: | 13.0 miles, 3300 feet |
| Weather: | Cloudy but warm and muggy, some sunshine later, windy night |
| Trig Points: | 0 |
| Fells: | 0 |
| Other Info: | Tiny free car park at Hawes End |
| Summary: | Hawes End, Allerdale Ramble through Borrowdale to Seathwaite, Styhead Gill to Styhead, Great Gable Traverse Path, Beck Head, wild camp at Gillercombe Head |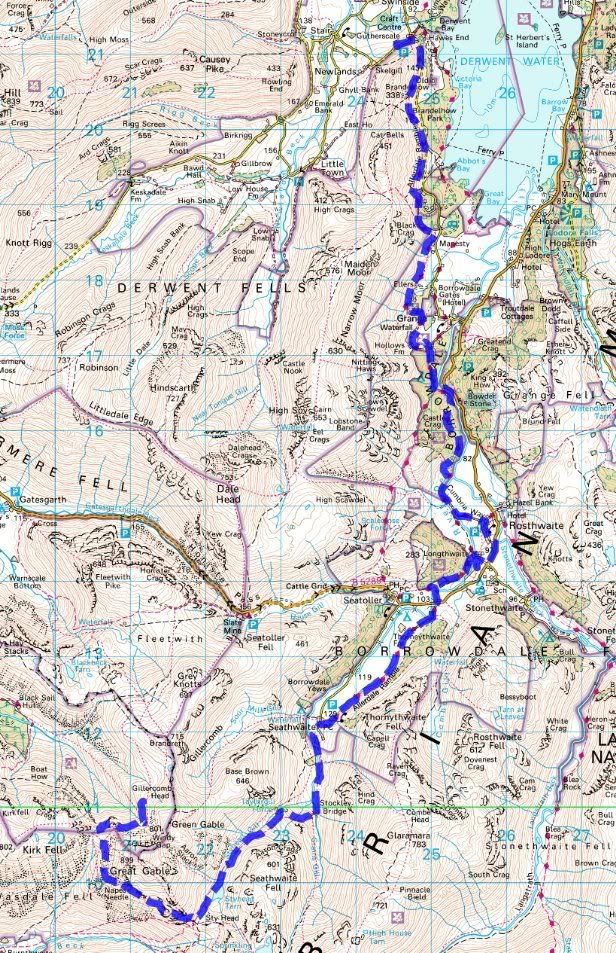 Key to symbols:

= Trig Point    

= Yorkshire Top
Our weekend actually started on the Friday night, as we stumbled down the steep, rapidly darkening, wooded path to reach the banks of Derwent Water. The car was parked a little way back up the hill in an empty car park at the foot of Cat Bells. We'd already eaten in Keswick; pie and chips in the restaurant at the Old Keswickian and a cracking pint of Old Peculier in a nearby pub all that was needed now was a quiet, comfortable place to sleep. Hence the stumble down to the lake side, where we hoped to find a suitable grassy pitch for the tents.
Within 10 minutes we'd found exactly what we were looking for, in the cove of Otterbield Bay, just a pace or two off the path, but now late enough that no-one else would be using it again tonight; a flat space covered in long grass with no stones and few bumps. We proceeded to pitch tents and within 20 minutes, just as the light failed, we were sitting on a large rock at the water's edge, admiring the disappearing view and the deafening quiet. It takes a while for Tex to accept the fact that his new tent is marginally heavier than mine but also significantly smaller!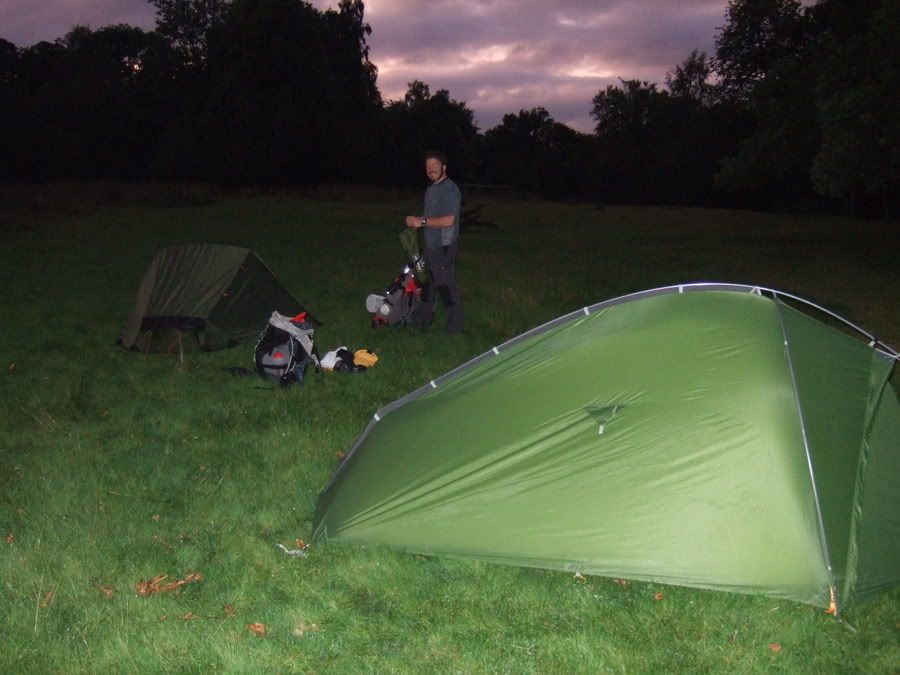 Tex completes his tent erection
We chatted into the dark, catching up on recent events in each other's lives and what we could expect from the next two days walking. I'd prepared a late evening snack for us; cocktails sausage rolls, some small but exceedingly nice cakes and two bottles of pre-mixed vodka and coke to wash it down with. There was plenty of wild life nearby including some irritating midges and noisy ducks, but the vodka seemed to help in both those respects. We watched lights flickering from across the lake; a camp fire right on the shore, one or two houses further up the hillside and cars travelling along the road. Our side of the lake was dark except for the faint lights from a nearby Outdoor Centre.
The midges eventually became too intense and we retired to our tents. I found a rather interesting amphibian (I can't be any more specific than that), trying to gain entry to my inner tent; I always make sure that my inner is tightly zipped when I'm not in it and this is a prime example of why! He probably looks large and menacing in the photo, but that's thanks to the macro zoom I used – he's actually about an inch or two long 🙂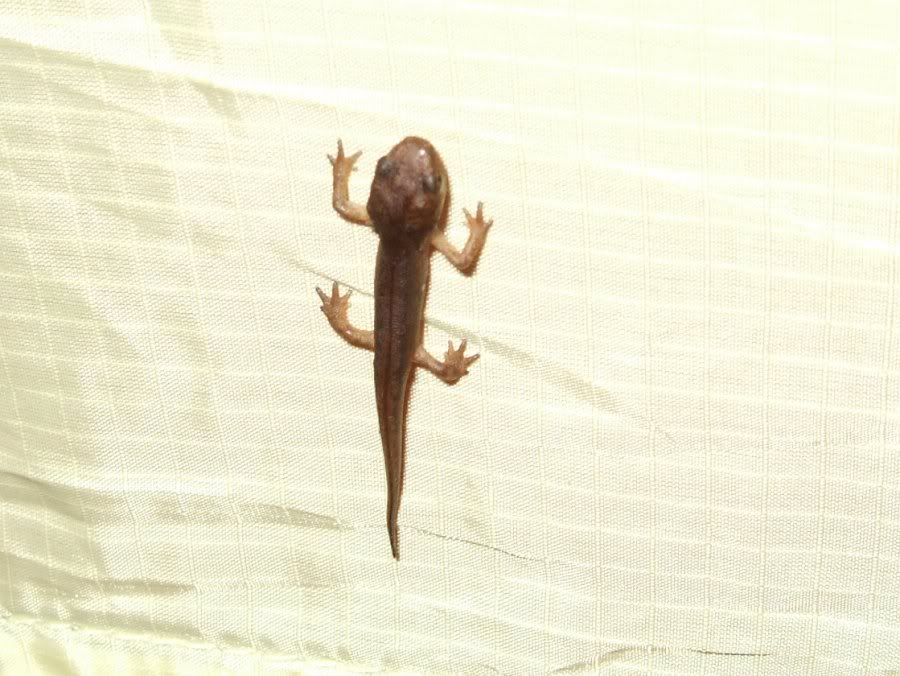 Amphibian intruder in my tent
The night was warm and still, the ground was firm but flat and the ducks were loud and raucous all night. At about 04:00 a particularly "yobby" duck arrived home and proceeded to wake all other ducks up with his loud and insistent quacking; they were none too happy and responded by chasing him around the lake for an hour, flapping and splashing for all they were worth. I'd have given my right arm for a duck gun at 05:00!

Morning mist on Derwent Water
By 06:10 the other call of nature had me awake and about and a few minutes later I was lake side with a brew coming to the boil on my stove. I was joined a few minutes later by Tex and he set up his stove to boil the water for his porridge. I'd bought some silver material from BPL a while back and this was my first chance to test the new windshield I created out of it. I was surprised at how light the stuff was and how much quicker the stove boiled when protected from even the slight breeze the was coming across the lake this morning. I'd had enough spare material to make one for Tex too!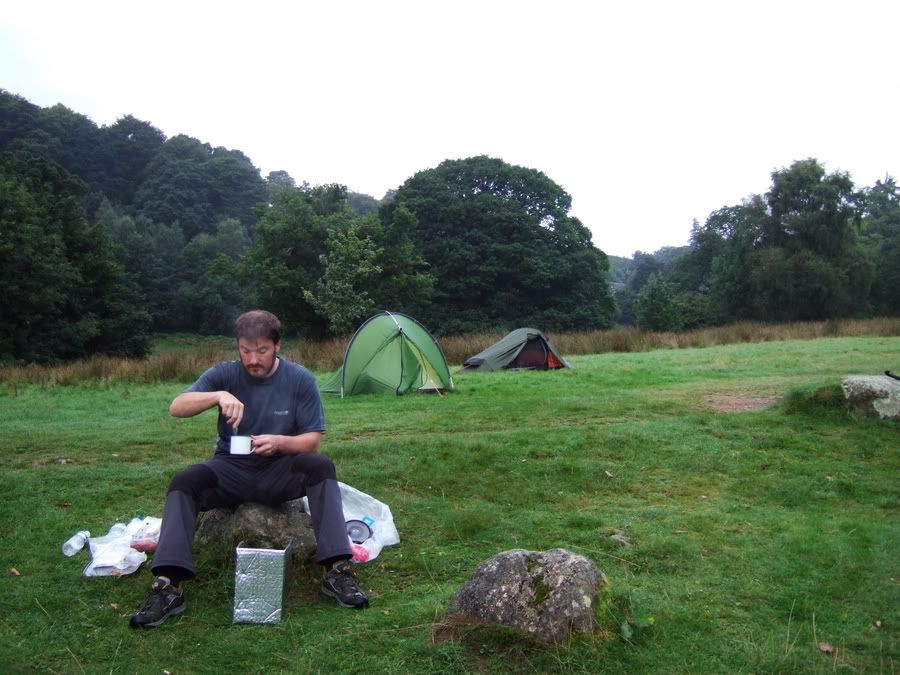 Tex, making Breakfast
We took a leisurely breakfast and spent our time packing away camp. We "wombled" the area before we left; making sure we left no litter or other trace of our presence and apart from the indentation in the grass, we were satisfied as we made our way back to the car. The stiff climb back up the path to the car had us both sweating under our unusually heavy packs; neither of us backpacks regularly enough to be used to this extra weight and I at least was a little uncertain of how well I would cope with it today.
As we arrived back at the car I was not surprised to find the car park already half-full; this is a popular spot for walkers and the car park is very small. We met a couple of guys just about to set off for a day walk. They asked us if we'd wild camped, we confirmed we had and they both sighed audibly. They'd had an awful night on an organised campsite outside Keswick; they'd been kept awake until the early hours by noisy campers drinking and talking loudly and then they'd been woken at 04:00 by a drunken neighbour having a loud conversation on his mobile phone. Poor sods!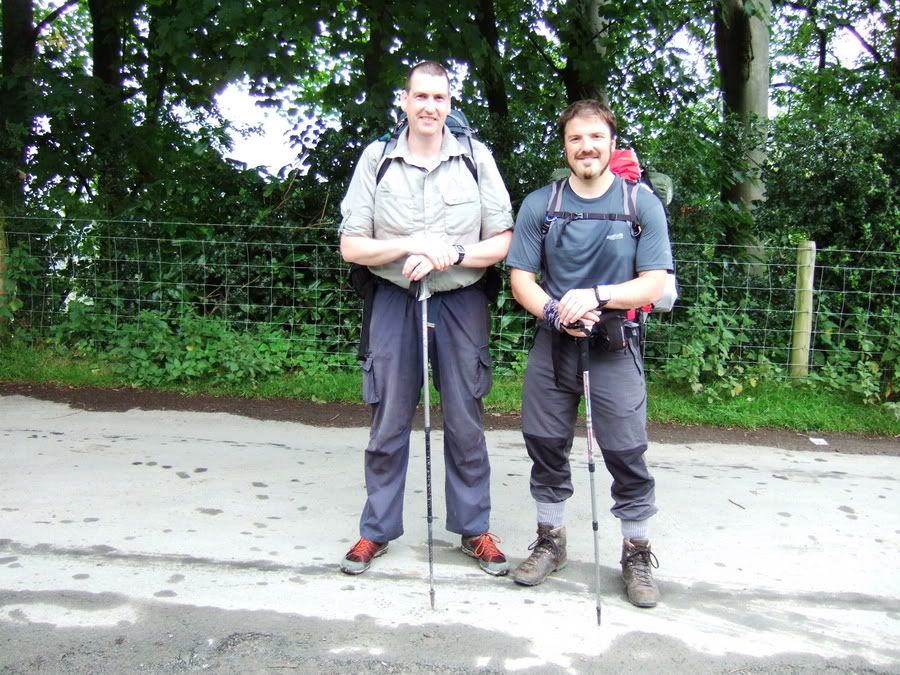 Leaving the car, heading for Great Gable
We dropped our unwanted overnight gear, picked up our poles and Tex replaced his trail shoes for his squeaky boots. I'd decided to give my Roclite's the chance to prove themselves this weekend. An unusual choice for a fully laden backpacking weekend perhaps, but I figured I would need every ounce of weight saving I could get, so the boots were out and the hi-tec plimsolls were in 🙂
As we walked away from the car we heard the sound of throaty engines approaching and we were astonished to watch at least a dozen, perhaps as many as twenty Lotus Elises roar past us up the road; away from Keswick towards Rosthwaite. That's one way to enjoy the Lake District, but I'd rather do it our way any day.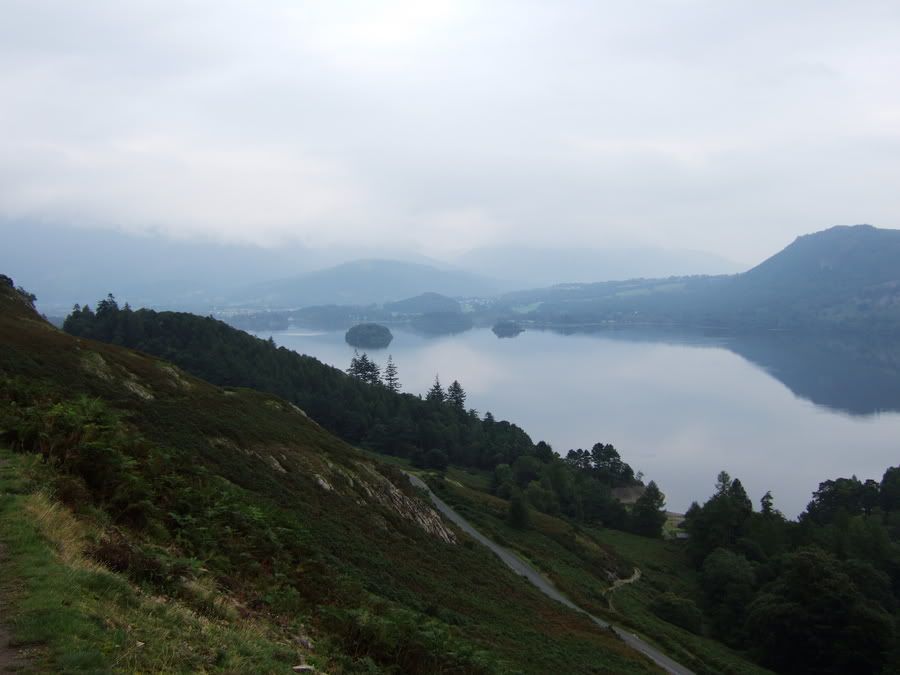 Looking back down Derwent Water
We'd discussed walking tactics the night before; a strange discussion perhaps, but as I said, neither
of us backpacks regularly and we were unsure about how well we'd cope with the length of the walk and the height gain we'd planned whilst carrying 10Kg on our backs. We've both tried to go as lightweight as our budgets will allow, my diary tells the story of many of my equipment purchases, but 10Kg is still a big increase from our usual day packs.
We decided to take things really easy – we had all day to do the 12 miles or so – and we would take regular breaks. The first one of course was about 15 minutes after set off; to allow Tex to explore the bracken a few yards off the track. The path we were following was part of the Allerdale Ramble; the forgotten walk of the Lake District that runs from Seathwaite to Grune Point, about 50 miles away on the Solway Firth. I say forgotten, only because none of the finger posts we came across, along the eight miles of it's length that we walked, mentioned the name at all.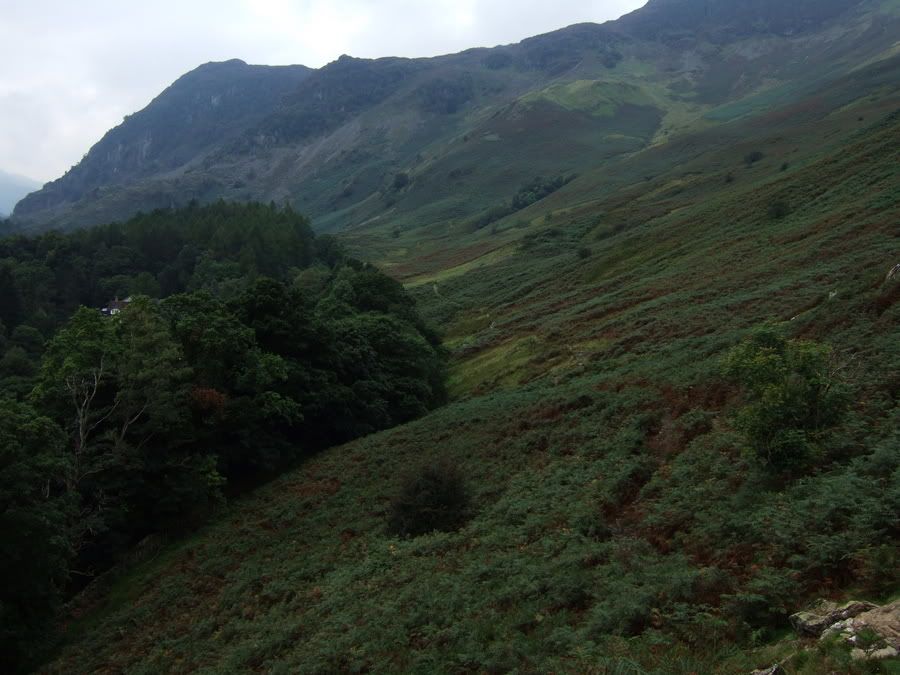 The path continues through the bracken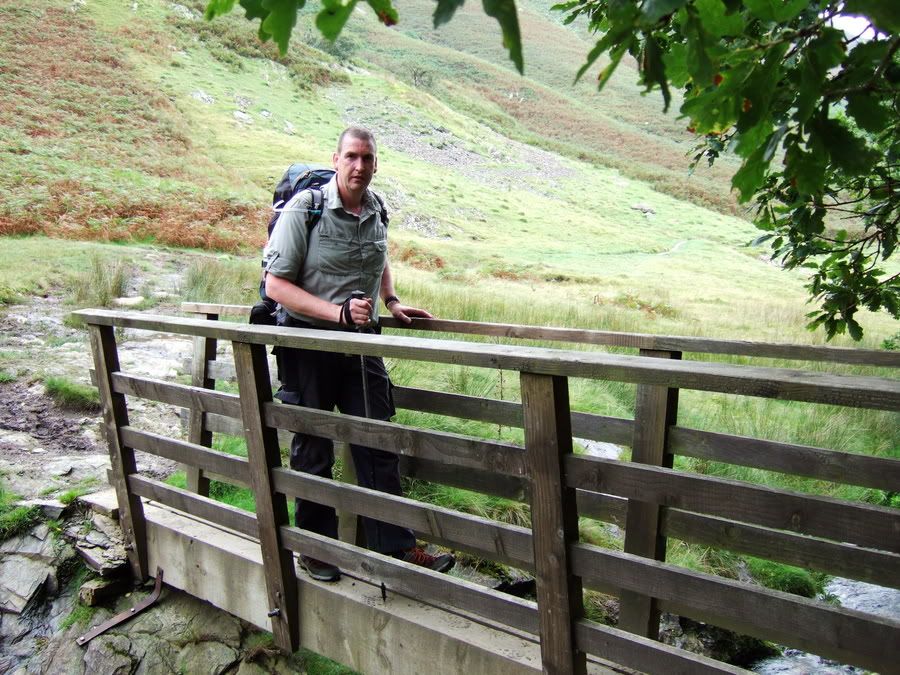 Me, crossing narrow footbridge on path to Hollows Farm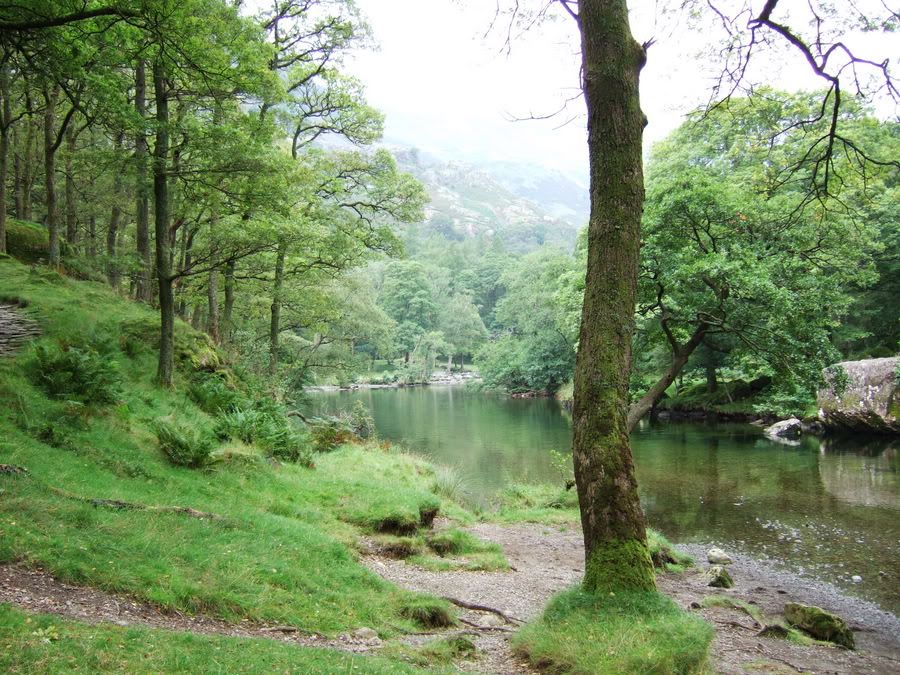 River Derwent
The path is easy to follow and we had it almost completely to ourselves; apart from the occasional honeypots along the River Derwent. We kept up a steady pace, taking five or ten minutes rest every hour and as we arrived at Castle Crag we met the first people since leaving the car park. We'd been up Castle Crag on our last weekend away, so we skipped the climb to the summit.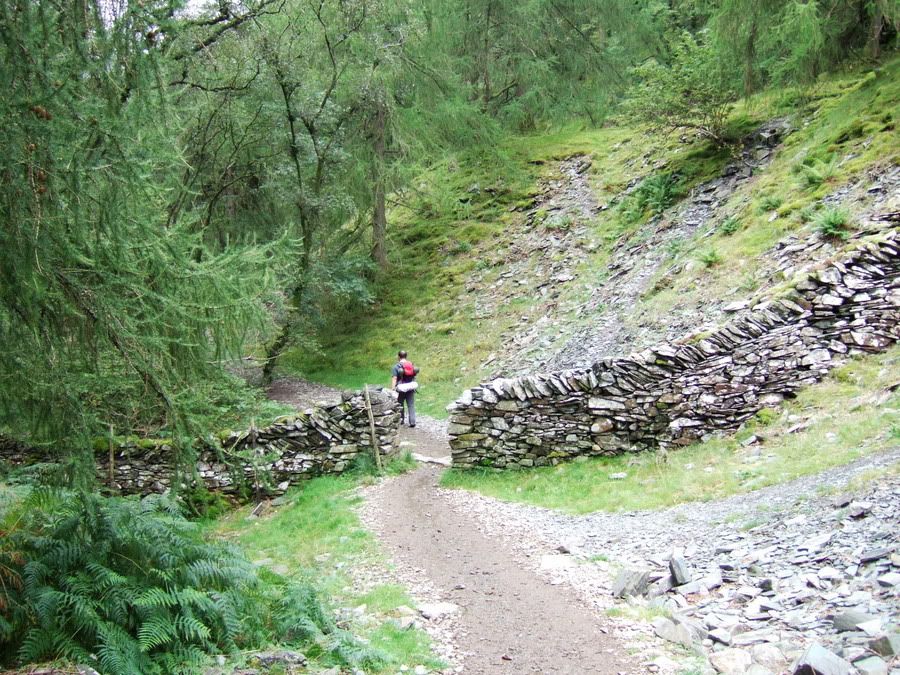 We continue along the Allerdale Ramble, beneath Castle Crag
We came across a very unexpected treat as we entered Rosthwaite; The Flock In, a converted barn selling teas, cakes and assorted knitwear. We were adequately provisioned for clothing, but we decided a nice cup of tea and cake would hit the spot though. It's not cheap, two cups of tea and two cakes were almost £7, but the place was friendly and they have a garden and a toilet out the back. 20 minutes later, fully refreshed and relieved we turned right through the village and made the first of three short navigational errors.

The Flock In, an unexpected treat for tea and cakes
The first right should have been followed almost immediately by another right, to pick up the footpath to Peat Howe; but we missed it and had to use the road instead. At Peat Howe we then compensated by taking an unnecessary left turn through a narrow, fly-infested passage to a boggy field, before realising our mistake and retracing our steps to the road; which we followed to the Longthwaite Youth Hostel. We then missed the left turn down to Folly Bridge, but fortunately I spotted the error quite quickly and we only had a short diversion.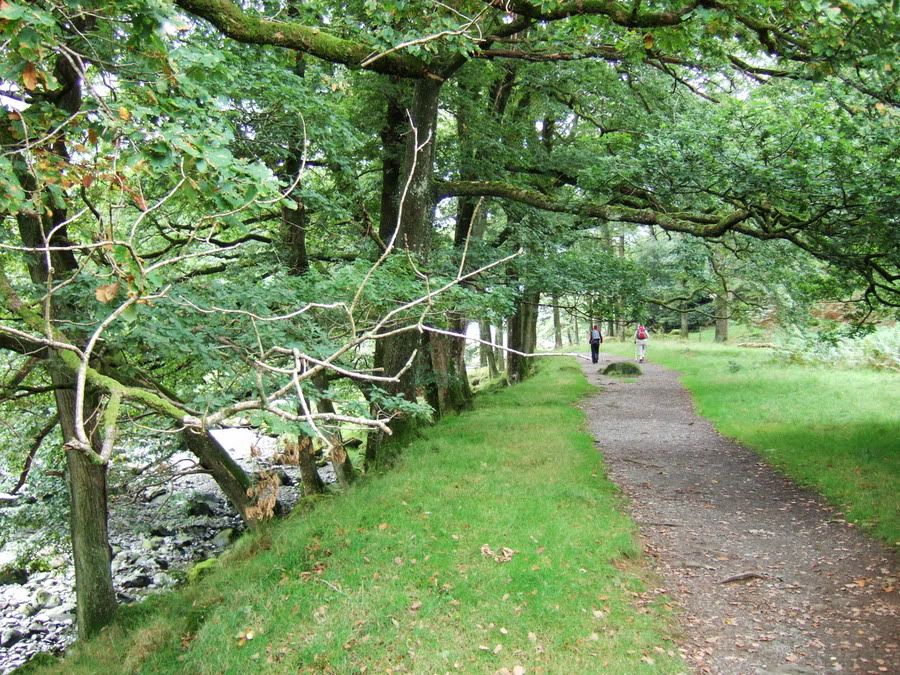 Entering Johnny Wood by Longthwaite YHA
The path now opened up and we had extensive views up Seathwaite valley towards Base Brown and Seathwaite Fell. Here, the Ramble follows a trickle of dirty water called Black Sike for a mile or so into Seathwaite and we began to meet more walkers all the time.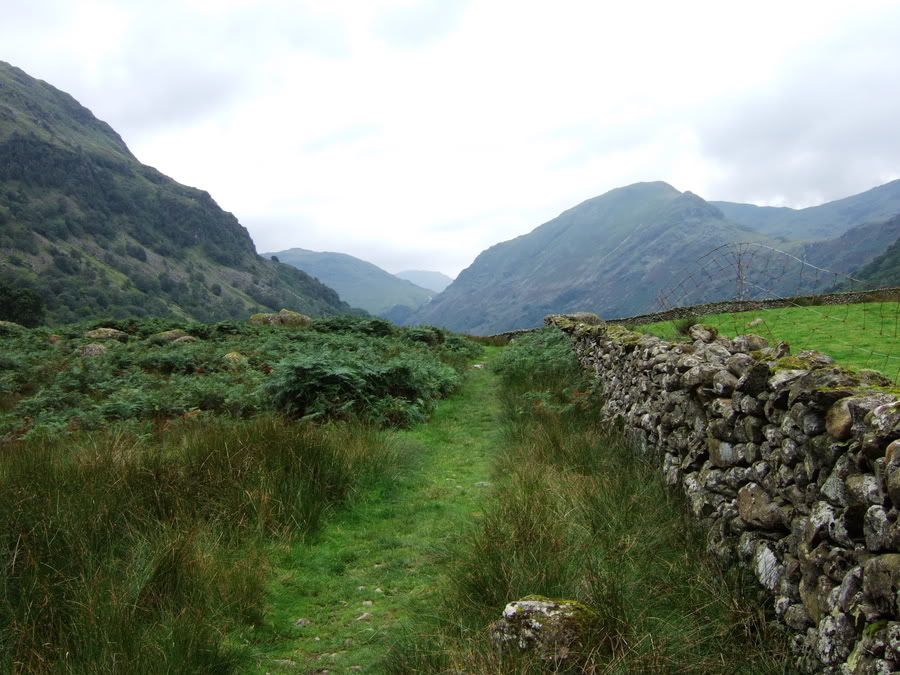 Into Seathwaite Valley
About half a mile before we reached Seathwaite we met a group of six or seven young lads coming down the path towards us, one or two of them had day packs on, they were all chatting cheerfully and we let them come through a kissing gate in the wall ahead. They all said hello, which is unusual and they all hurried off towards Longthwaite. I didn't give them much thought at the time. 20 minutes later though and we having a short break on a convenient rock by the path when the lads all trundled back the other way. They were spread out in a long line now though and the two at the front looked a little sheepish. "Ooops, wrong way!" said the leader to me; he was the one with what appeared to be a guide book in his hand. As the others passed I jokingly suggested they shoot the map reader.
One of the lads called over to us "How far is it to the top?". I presumed he meant Base Brown or Glaramara, both of which were about a mile or so away from us, but I asked him where they were headed. "Scafell Pike" he responded, like I'd asked him the dumbest question in the history of the world "DUH!". I was a little surprised and I think this may have showed through as my immediate reply was "You're having a laugh aren't you?". Here were half a dozen lads with a pack between them, with no visible signs of waterproofs and who had just walked a mile the wrong way down Seathwaite valley – away from the extremely obvious big hills, towards the lower ground and they were planning on walking up England's biggest mountain. It was already 12:30 and they were still half a mile from Seathwaite; from where it's about a six or seven hour round trip to the summit and back – I know because I'd looked at the route a couple of weeks previously. I tried to discourage them without sounding pompous. "You might just make it back before dark," I said, "if you don't get lost again."
That seemed to cheer them up no end and off they went. I listened for the helicopters for the rest of the day, but fortunately I never heard them.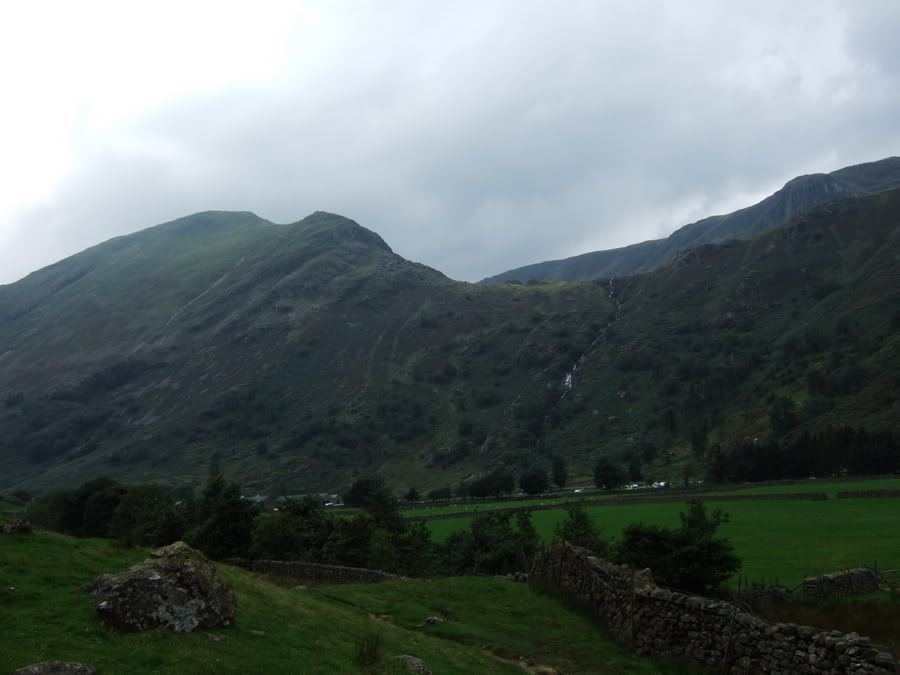 Base Brown on the left and the waterfall of Sourmilk Gill
I've never walked through Seathwaite before and I had no idea how beautiful it was – the valley rather than the village. The roads were lined with cars, hundreds of them; I don't know if this is usual, or if there was some sort of event going on, but I can imagine it makes life difficult for the locals.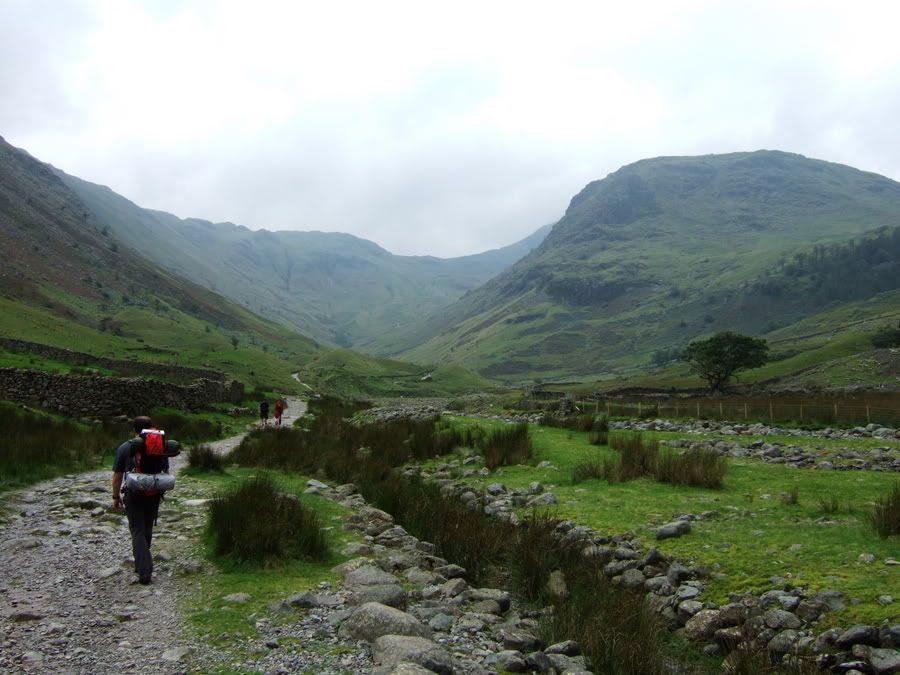 Our path runs through Seathwaite Valley, then in front of Seathwaite Fell on the right of shot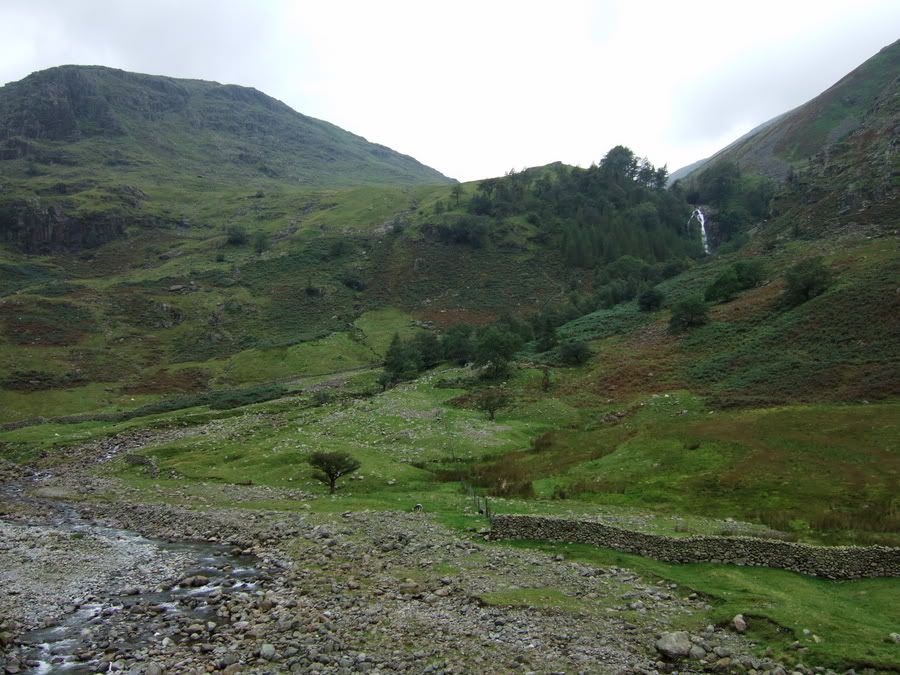 Taylorgill Force Waterfall

Stockley Bridge, spans Grains Gill
We stopped for lunch at Stockley Bridge; surely one of the most awesome lunch spots there can be anywhere in the Lakes? We sat on large boulders by the edge of the beck and reduced the weight in our packs in preparation for the climb up to Sty Head. I'd been wanting to each my lunch all morning, it seemed to weigh a ton. A banana, flapjacks and a small bottle of Diet Coke later and my pack seemed to float (yeah, right!).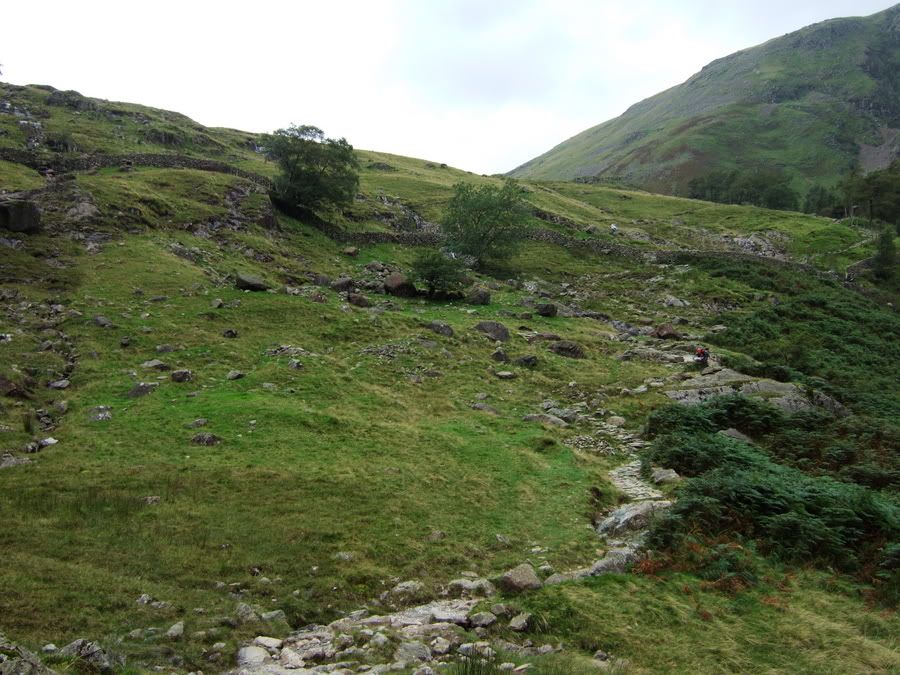 >
The path up to Sty Head
As usual, Tex set off at a grand pace, soon leaving me far behind – but I was determined to take it easy, we had a lot of ground to cover after the climb and I wanted plenty left in the tank for later. I plodded slowly up the hill, I was passed on a climb for the first time since Ben Nevis (see WHW Journal), but I wasn't bothered. I found the pace worked well and I didn't feel the need to stop for a long while.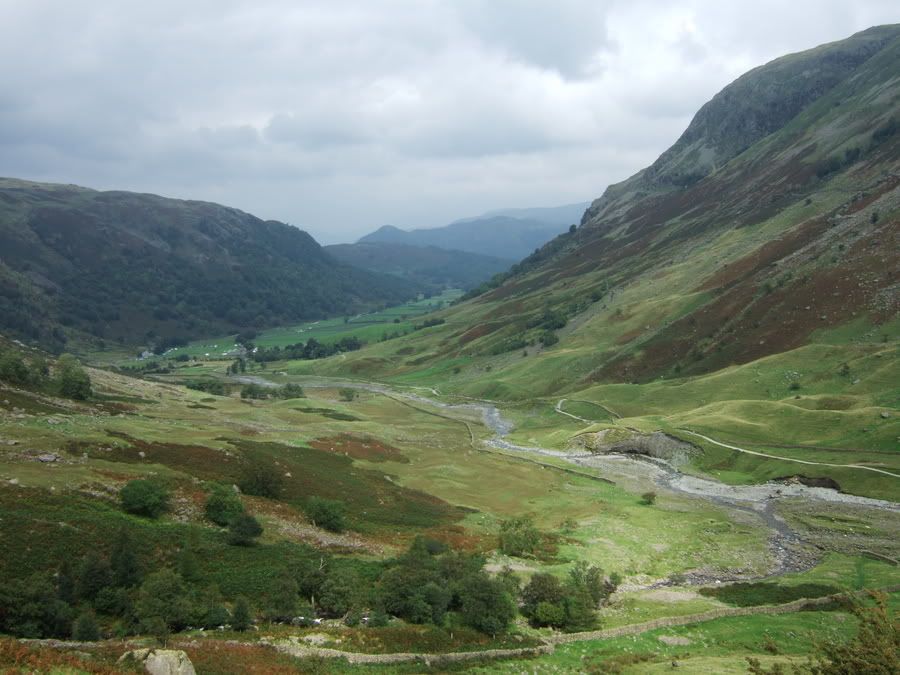 Seathwaite Valley
I stopped to take the occasional shot of Seathwaite Valley, stretched out below me like a green river between the bracken covered slopes of the surround hills. The path is well laid and steps make up a good portion of it. It runs beside Styhead Gill for much of the way and is a truly lovely path to walk.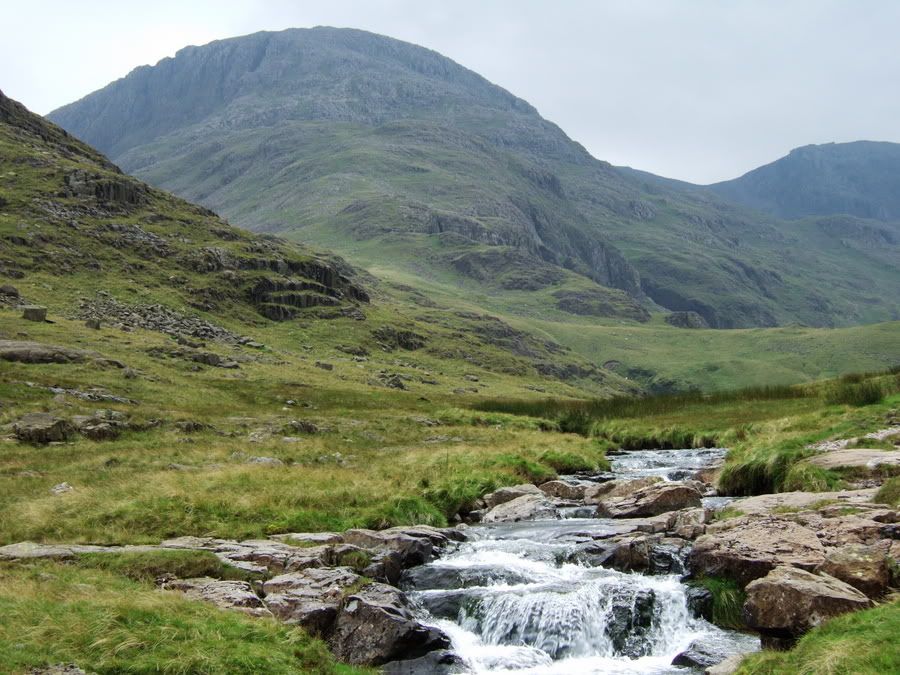 Styhead Gill
I soon caught up to Tex, who was waiting just below Styhead Tarn and together we pushed on to this wonderful spot. There were lots of people here and a couple of tents pitched on the far side of the tarn, even at this early hour.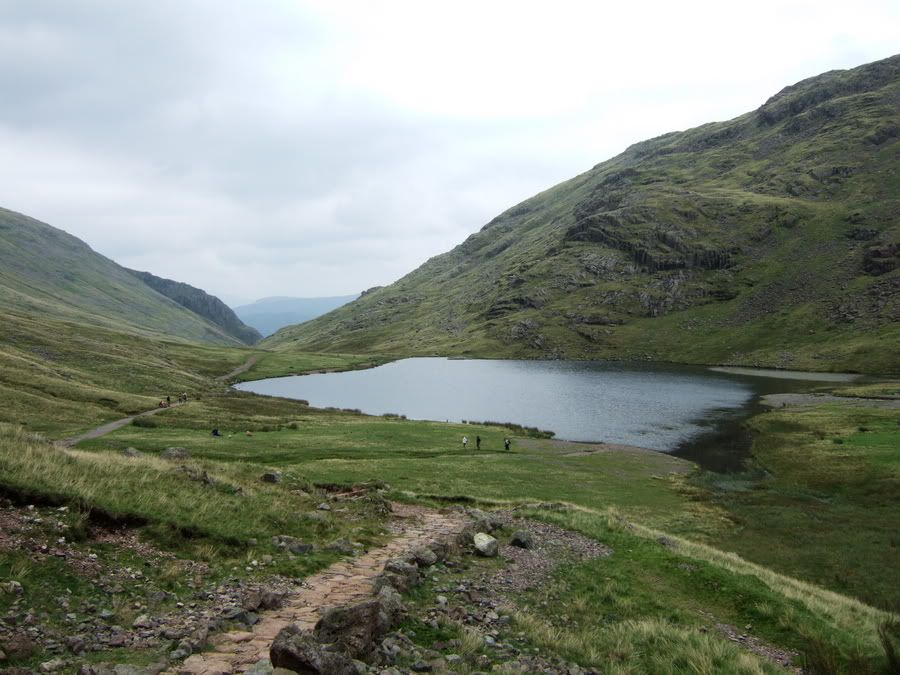 Styhead Tarn
We stopped on the far side of the tarn in the shelter of a large stone. The wind was strong and cold at this height and I rummaged in my pack for the water-tight roll bag that contains my fleece. The path we wanted was the one that traverses the lower slopes of Great Gable, through Kern Knotts, but it wasn't obvious which one this was, as there were two or three alternatives from where we were sitting. Based on the map and our current position I decided that the faint green track to our left was the most likely and we set out along this.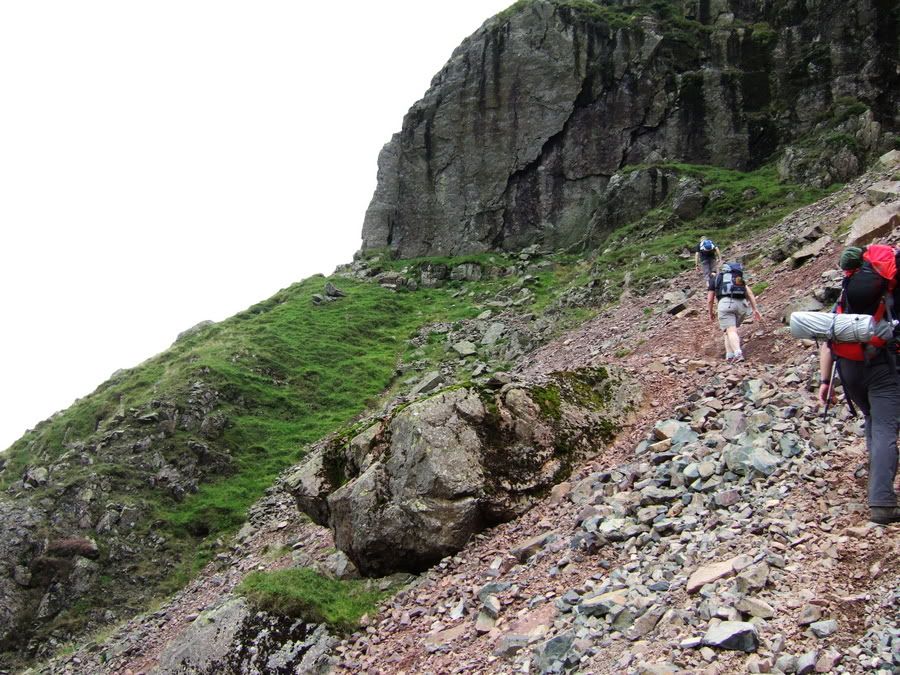 Mike and Speedy slow us down considerably
The faint path soon became more obvious and I could see it wandering around the lower slopes ahead, so we'd picked the right path at least. After a few minutes of scrambling we came upon an older couple on the path ahead. The woman was painfully slow, picking her way delicately across the slope, stopping every few steps and making long decisions over the simplest steps down. As soon as we came to a section wide enough, we both kicked on past them with a "hello" to break the ice. The bloke said nothing, just looked at us like we'd kicked sand in his face.
A few minutes later and in the shelter of the mountain I'd heated up sufficiently to require the removal of my fleece. We took a quick break, had a look at our position on the map and the likely sources of water for tonight's camp. While we were talking the couple we had just passed came round the corner behind us. I was sorely tempted to shoulder my pack quickly and stay ahead of them on the path, but that would have been very obvious and a little discourteous, so we stepped off the narrow path to let them pass. The bloke said nothing but his large wife at least gave a small nod of appreciation.
A couple of minutes later and we were stuck behind them again. The path is tricky in places, don't get me wrong, it needs careful consideration in places and there is some minor scrambling required, but they were painfully slow – at least she was. We made lots of noise behind them, so they knew we were there, although they never turned to look at us. We were both getting more and more frustrated as time dragged on; Tex isn't the most patient of folk (nor am I for that matter) and our sighs were becoming audible. After 20 minutes of this I was well and truly fed up. I was about to ask them to let us pass, when the woman turned and looked at us with not a little annoyance, "would you like to get past?" she asked. "Yes please", Tex was very polite although I knew he was as annoyed as me. "Mike, just a moment", called the woman. Mike turned and gave us daggers, but reluctantly stepped aside to let us pass.
I have no idea what their problem was, but they were the most inconsiderate walkers I have come across in a long time. Cheer up Mike, it's not a competition.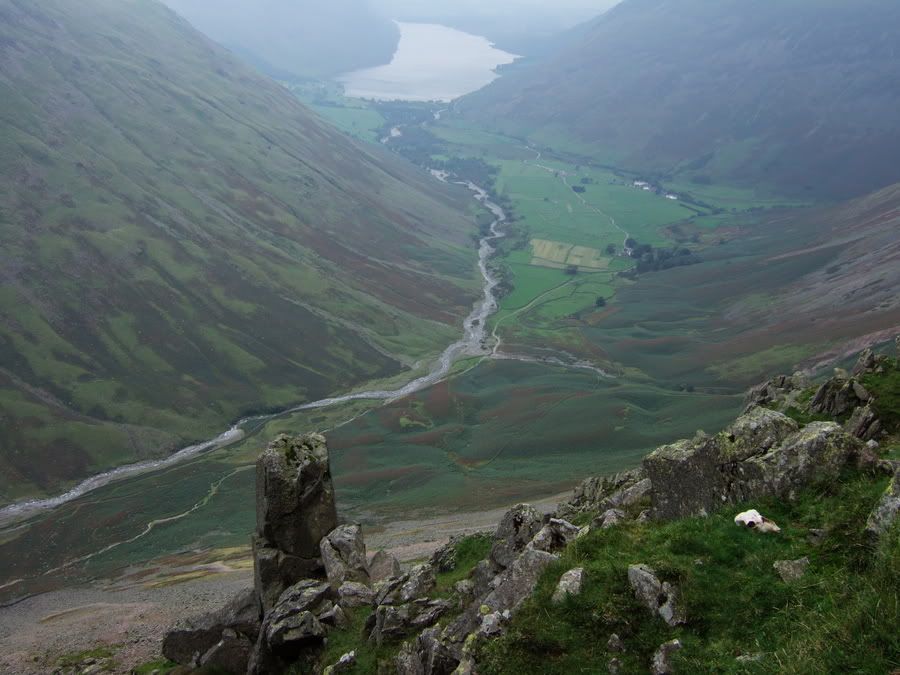 Wast Water and Wasdale
We arrived at Beck Head, the col between Great Gable and Kirk Fell; the place where we planned to camp for the night. There looked to be good water sources nearby and we hoped for a nice pitch by the tarns.
Unfortunately it wasn't to be. The wind was blowing fiercely through the gap, so a pitch by the tarns was way too exposed. We looked for a sheltered spot and although we found room for one tent, there wasn't room for two. I studied the map – somehow Tex's map had become lost during the day – and decided that we should be able to find a flat spot on the other side of Great Gable.
We skirted the northern buttress and dropped down into Stone Cove, just below Windy Gap. We collected water from the fast flowing stream, as close to the source as possible; which was a few yards off the path and headed for an area of flat grassy ground on the top of a rocky knott. It was here or nowhere we decided. We were both knackered and although it was a little bumpier than we would have liked, we pitched tents immediately. It wasn't just bumpy it was also sloping slightly and still quite windy.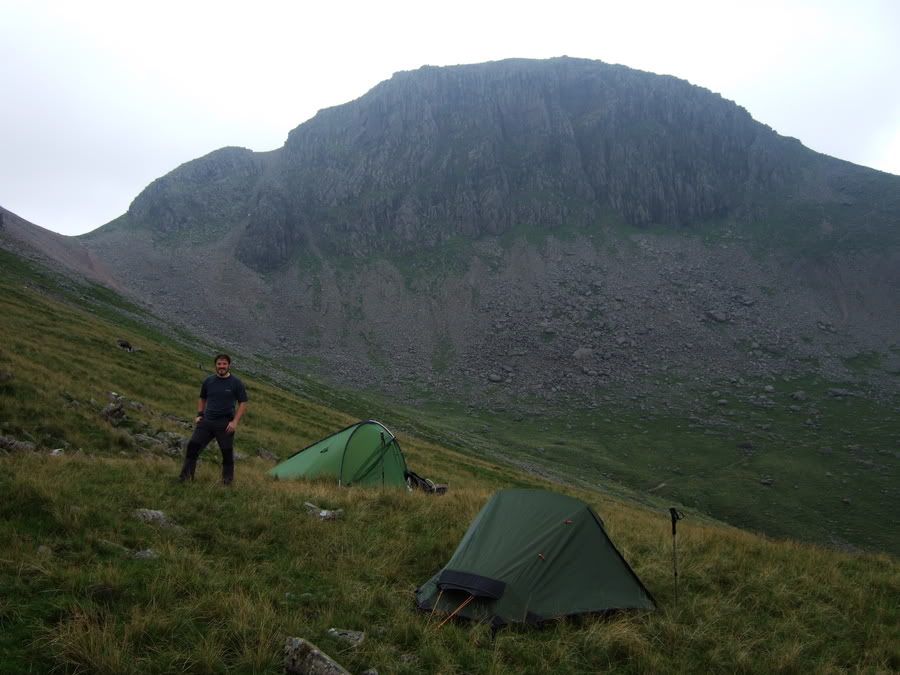 Great Gable looms above us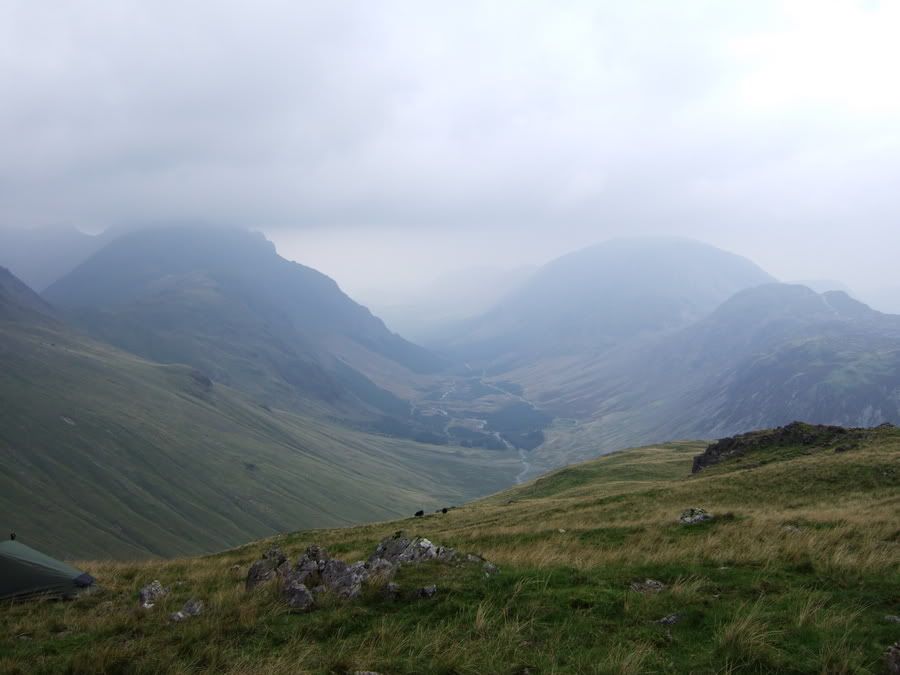 Ennerdale Valley from our wild camp site
We'd been very lucky with the weather during the day, no rain at all, overcast but warm and muggy and only windy from Sty Head onwards. The weather remained dry, but the temperature dropped quickly in the evening. We had our meals – a Wayfarer Lancashire Hot Pot for me and mash, beans and sausages for Tex. The windshields came into their own in this environment, saving much time and gas I'm sure.
I produced another pair of pre-mixed cocktails and we found the most comfortable rocks we could to sit on and enjoyed the views down Ennerdale. I became quite cold quite quickly though and soon turned in. It was much colder than the previous night and I used my silk baselayer as pyjamas, which meant I was warm all night. It was very windy in the night though and it rained off and on, the ground was uncomfortable and as I result of all these factors I slept very little.