Weekend walk report
After a week of writer's block I've finally managed to finish my walk report from last weekends backpacking trip with Tex Gore. We had an excellent weekend with hot muggy weather on the Saturday and cloud and mist and finally rain on the Sunday.
We camped by Derwent Water on the Friday night, in Otterbield Bay, and what a lovely spot that was. We arrived late enough that no-one would be walking the lake side path, which is actually the Cumbria Way and we left early too. Saturday night we spent under the looming bulk of Great Gable on a rather lumpy pitch but with views to die for.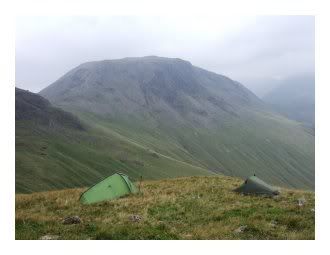 The full walk report can be viewed here, with lots of pictures.